Joining the Team
The Irvington Club welcomes both members and non-members to join our Manta Rays Swim Team.  The Manta Rays Swim Team is geared towards recreational swimmers age 6-18.  This year the season will run from June 19th – August 13th and will provide swimmers with an opportunity to compete in 3-4 dual meets against other teams in Portland, and the championship meet, Saturday August 12th – the final meet of the summer.
Pre-Registration
Pre-registration is open to all team participants from 2016.  Pre-registration can be charged on club members' accounts.  Swim Members and Non-members must register in person at The Irvington Club. As a reminder we do not accept visa/debit cards. Payment by check or cash only.
Pre-registration for returning team members begins Monday, April 24, 2017, starting at 9:00 am.
Open Registration
May 6, 2017, at 9:00 am for Full Club & Associate members.  Members are encouraged to register online.
Non-member registration is May 13, 2017 at 9:00 am at The Irvington Club with payment by check or cash. We do not accept debit/visa cards.
Cost
Club/Swim Members – $ 235.00 | Non-members – $260.00
Cancellations must be made 15 days or more in advance of the start date for a FULL refund.
Cancellations must be made between 8 & 14 days in advance of the start date to receive a 50% refund.
Cancellations made less than 8 days of the start date will not be refunded.
Please fill out the Swim Team Waiver and Swimmers Information Form (one per child) and bring them in to the Club.
Swimmer Information Sheet 2017
New Swim Team Member Information Sheet 2017
Practice
Advanced Swim Team ~ Practice Time: Monday – Friday | 7:45 – 9:00 am | Age 12+ (or coach recommendation) 
7:45 – 8:45 am swim  |  8:45 – 9:00 am dryland
Advanced swimmers have had prior competitive swimming experience.  They must be able to adequately perform all four competitive strokes: butterfly, breaststroke, backstroke and freestyle, as well as starts and turns.  Swimmers will fine tune their technique; build endurance and gain racing experience.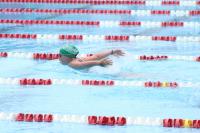 Intermediate Swim Team ~ Practice Time: Monday – Friday | 8:30 – 9:45 am | Age 9-12 
8:30 – 8:45 am dryland  |  8:45 – 9:45 am swim
Intermediate swimmers should have a general understanding of all four competitive strokes: butterfly, breaststroke, backstroke and freestyle.  Swimmers will build endurance and work on improving all four strokes.  Intermediate swimmers should be able to swim a continuous 400 freestyle, and be able to perform both starts and turns.
Beginner Swim Team ~ Practice Time: Monday – Friday | 9:30 – 10:30 am | Age 6-10 
9:30-9:45 dryland  |  9:45-10:30 swim
Beginning water safe swimmers will be introduced to the four competitive swim strokes: freestyle, backstroke, breaststroke and butterfly.  Swimmers will learn flip turns and competitive starts. Beginning swimmers will be required to swim two consecutive lengths of the pool.
High School Team ~ Practice Time: Monday – Friday | 7:45 – 9:00 am
This practice group is geared to high school age competitive swimmers.  In order to be eligible you must be entering 9th – 12th grade.  The program will provide the opportunity for athletes to maintain their swim fitness level throughout the summer. It is beneficial for high school swim team swimmers, as well as multi sport athletes, who wish to vary their training.
Pre-Swim Team ~ Practice Time:  Monday-Thursday (new M-TH for 2017)| 10:40 – 11:10 am
Pre-swim team is geared towards swimmers who are not quite ready for the beginner swim team group.  Pre-swim team swimmers should be at the Stingray level of ITC lessons or PP&R Polar Bear level.  Swimmers unsure of their level will be assessed by the coaching staff at an informal tryout (TBD).
Pre-swimmers may advance to the beginner group, with coach's approval.  Pre-swimmers will be able to participate in swim meets (also with coach's approval)
Cost for Pre-Swim Team:  Full Club/Swim Members – $235.00  |  Non-members – $260.00
Swim Meets
Swim meets will be held on Saturday mornings, warm-ups usually begin at 8:00 am with the meet starting at 9:00 am and finishing around 1:00 pm.  The dual meet dates for 2017 are:
June 29th – Inner Squad Meet
July 8th – Home Meet vs. NECC and West Hilld
July 15th – at Hawthorne. This meet will have a later start time (10:00 am)
July 22nd – at Sunset with West Hills (This will likely be a long meet)
July 29th – at Murray Hill
August 12th – City Meet at Mt. Hood Community College (Plan to be there until 4:00 pm).
City Championship Meet is Saturday August 12th at Mt. Hood Community College. This meet is MANDATORY. All team members are required to attend one regular meet in order to qualify for the Championship Meet. Due to the number of swimmers at this meet, please plan on being in attendance until 4:00 pm.
What Happens at a Swim Meet
Swimmers will be competing with other swimmers of the same age group (6 years & under, 7-8 years, 9-10 years, 11-12 years, 13-14 years, 15 & older). Most team members will compete in three individual events (butterfly, breaststroke, backstroke, free style, or Individual Medley) and two relay events.  Ribbons are usually awarded to places first through eighth. Also, participation ribbons are given by coaches either the day of the meet, or at practice the following Monday. Regular meets will last between three and four hours, depending on the size of the teams competing. The Championship Meet will be longer, around six hours, because of the number of teams competing.
Swim Suits/Team Apparel
Team suits, sweatshirts and sweatpants will be available to order. You may choose a solid black suit or a suit with the Manta Ray logo. A suit fitting will be scheduled at the Irvington Club so swimmers can come in, try on suits, and place orders. The date of this fitting will be announced via email.
Team Shirts and Caps
All team members will receive a complimentary t-shirt and cap. These will be passed out before the first meet.  Additional caps and t-shirts will be available for purchase.
Dawn to Dusk Fundraiser
We will be having our dawn to dawn Swim-a-Thon fundraising swim again this summer. The date is tentatively set for Thursday August 3rd – 4th.
End of Season Celebration
At the end of the season, the team will get together for one last "Hoorah". The tentative date is scheduled for August 13th, after the City Meet.
I'm looking forward to a great summer of fast swimming!
Eric Bugna
Swim Coach
360.852.7534
ericbugna@gmail.com