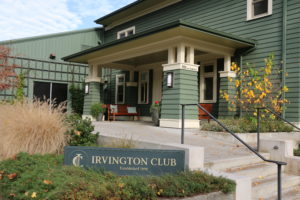 Family Initiation Fee
$3,000.00 ($600.00 non-refundable deposit & $240.00/month for 10 months)
Monthly dues ~ $166.75
Couple Initiation Fee
$2,500.00 ($600.00 non-refundable deposit & $190.00/month for 10 months)
Monthly dues ~ $146.00
Individual Initiation Fee
$2,000.00 ($600.00 non-refundable deposit & $140.00/month for 10 months)
Monthly dues ~ $119.00
Junior Initiation Fee
$750.00 ($150.00 non-refundable deposit & $150.00 a month for 4 months)
Monthly dues ~ $60.50
Rates are effective: February 1, 2018
Membership Cap 
To ensure Club members quality court usage, The Irvington Club Board of Trustees instituted a membership cap in 1990. The current cap is 320 total Family, Couple, and Individual memberships. This number may be changed at the Board's discretion.
Waitlist
A non-refundable fee of $600.00 is charged to be placed on The Irvington Club waiting list. This fee is applied toward the eventual Club membership initiation. Initiation fees are fixed at the time an applicant is placed on the waiting list.
When an applicant becomes eligible for membership, they may decline and be moved 25 spaces down on the waiting list.  If they decline a second time, they will be dropped from the waitlist and will forfeit their non-refundable deposit.
Legacy and returning members may impact your position on the waitlist.
Associate Membership
The top 25 applicants on the waiting list will be invited to become Associate Members. There is a monthly fee associated with the program and it allows applicants limited access to the Club as outlined in the next section. Associate Memberships are temporary memberships.  Associate members become full members when the next available membership is open.
Eight (8) court reservations per month.
Participation on USTA League and City League Teams
Play in all Club tournaments
Unlimited participation in Men's/Women's Open Play
Access to clinics and private lessons at members costs.
Unlimited use of the weight room and spa
Ten (10) visits to the pool per summer season.
A copy of the membership roster, which includes Irvington Club rules and regulations.
Applicant may decline the Associate Membership and remain on the waitlist
For information on applying for membership or to schedule a tour of the Historic Irvington Club, please contact the front desk at 503-287-8749.