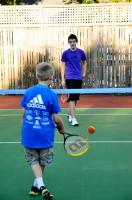 The Irvington Club offers 30 Junior Memberships and are available for applicants ages 9 – 21 years of age, whose parent is not a Club member.
There is a non-refundable deposit of $150.00 due at time of application submission. The current initiation fee is $750.00 and current monthly dues are $60.50.
Membership includes use of Tennis, Swim, Weight room facilities and participation in junior club tournaments.
Please contact the club 503-287-8749 for additional details on this program.
Rates are effective: February 1, 2018